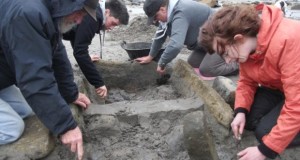 So a short while back I was at the clean coasts gig supported by some great local people and local businesses. There were various talks on where the groups had collected tonnes of rubbish. Hopefully we will start to providing an underwater part of this in the future. There were also some talks on the archeology in the area. Now I had heard about this fulacht fiadh back in September but I have to admit its significance at the time was lost on me. I am not aware if the exact date has been calculated yet but 3-4000 years seems to be agreed upon. The fulacht fiadh was used for cooking or bathing by putting hot stones into it, but it's really unusual to have one on a beach.
Now I like tripping in me van. So do some friends of mine and without doubt some of the best experiences we have had as a group have been to rock up and circle the wagons at a beach spot, Post surf, dive or swim the bbq gets fired up, we eat and imbibe a few drinks. Good friends, good food and maybe a spectacular sunset over the Great Atlantic. It's a combination that's hard to beat. You retire to bed tired from the Ocean but stoked to be alive and to be so blessed. Given the recent good spell of weather, history is just repeating itself.
It's a real mind bender to think our ancestors were doing much the same gig 4000 years ago. Won't be long before they unearth a bronze age surfboard or speargun. No doubt a lot has changed in 4000 years but some things stay the same.
One thing that has changed is the debris some of us leave behind. I do think we need a cultural shift on this. The take three initiative, where anytime you are walking on the beach you pick up three pieces of litter is a great idea. On the walk on the beach yesterday evening as the sun was nearly setting I was mentally recording what bits I would pick up on the return leg. There were empty bins in the car park so I didn't even have to put them in the van and bring home. No the beach wasn't spotless when I was finished but some people noticed it. Hopefully the more of us do it, the more people will be inclined to do it until we reach a tipping point and it becomes the norm,
It starts with you and me.