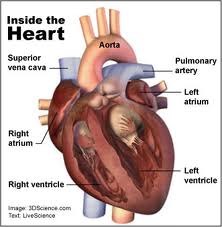 The heart is a pretty amazing organ. You only get one but if you're lucky maybe you get to share it today and every other day with someone else.
As freedivers you gradually learn to control it better, mainly by slowing it down. Relaxing, breathing, calming. You can also train it to react to a form of autogenic training. The heart just pumps away, second after second. The way it evolved from when you were a foetus in your mothers womb is pretty amazing. Starting with two cavities like a fish, it further divides to three cavities like an amphibian as if preparing us for a life both above and below the water and finally to four cavities and our mammals heart. The slowdown of the heart (bradycardia) is a well documented dive reflex when we are immersed in water. This happens to everyone, even people who hate water and panic, eventually their heart rate will fall too.
A freediver simply trains to work this reflex. It makes you a "better" freediver. More relaxed and at home in and under the water. It also makes for countless hours of fun at medicals. At the end of the day it still needs care. Regular exercise gets it going faster, relaxation and meditation gets it going slower. Some people will say you only have so many beats in it anyway so whats the point? Like anything if looked after, it will look after you.
Stressing the heart through exercise is a good thing. Stressing it through stress is a bad thing. Seems pretty simple to say, sometimes harder to do in reality. If you have never worn a  heart rate monitor during exercise please try it. If you freedive, try it during a breathhold. It's amazing to see what happens. You can listen to mine here. This was part of the Doc on ! we were part of which is here.  We could have gone lower but as you hear the Doc's machine could have been damaged. Was really cool afterwards when he showed me the flatline too. Anyone's  heart will do this with the right training and time. Nothing special about mine, except of course to me. Negative stress raises the heart rate and keeps it raised in our flight or fight response throughout the day. That stuff causes heart disease. Raising it far higher for brief periods during exercise helps prevent heart disease.
An amazing organ, an amazing muscle. It can catch you out of course. Sometimes when you least expect it. Walking down the street your eye might just connect with that someone special and your heart stops, even if only for a moment. Don't worry it will start again, hopefully.
Happy Valentines Day.