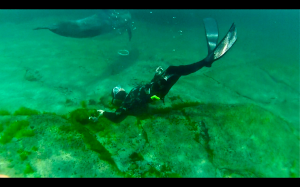 Photo thanks to Jan Ploeg
As adults we really should play with ourselves more.
That's a headline and a half right there. For those of you giggling down the back, I am deadly serious. On the freedive courses we use play a lot. Obviously there are serious bits about safety, technique and we tend not to play with them. But we should always play with and play in water. Despite what you were told when you were growing up. The proviso being when its safe to do so.
We learn when we play. One of my favourite things to do in water is play superman. We do this by pushing off the wall underwater. At mid-glide you perform a roll of 180 degrees so that you are now upside down in the pool under water. Just like Robin Williams you get a different perspective. But its much more than that. Yes you may see and feel the water differently. Yes you may pop up and break the surface and yes you may misjudge it and hit you head off the pool floor. (common) But you keep playing and like learning to walk as a baby after you fall down so many times eventually you get the hang of it. Eventually you are streamlined, sleek and move with the water. Now you can literally do anything. You have just added another dimension to your movement. As terrestrial beings we can only move forward, backwards or side to side. As aquatic beings we can now add up and down to that. We can roll, pirouette, spin, tumble and above all play. The body learns and use makes master. Try this with fins and without. You must either use a nose clip or a mask and yes you will get strange looks from other pool users but if you are not getting strange looks from people on a regular basis maybe you are not living life to the fullest.
The last thing we do is blow bubble rings like in the picture above. The dolphin is optional and never in a pool guys, that aint cool. So to blow a perfect bubble ring takes a little practice. Neck weight is good or a small weight belt and hold it beyond your head. Lie down on the pool floor. You may need to start with an exhale or not full longs to stay down. Wait and let the bubbles from you, the mask etc disperse and the water column settle. Take your time. Wait for a second between attempts. Keep practicing. Yeah its a neat trick and looks nice but it also ends up with you on the bottom of the pool with empty lungs so go shallow and play a bit.
Both of these playful acts do something other than make you feel like you are 8 years old again which in and of itself is no bad thing. It builds up what the master calls Aquaticity. If you ever watch Umberto dive just for fun you can see the way he moves isn't diving, isn't swimming. Its more like a dance, a flirtatious movement with the water where both elements, body and water really become one.  It's beautiful to watch and even more beautiful to emulate. So go play.