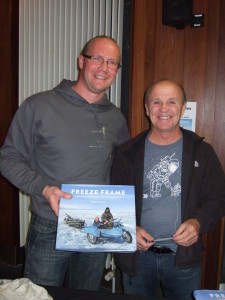 Most people say "don't as you will be disappointed". Of course there are loads of unsung heros in the world. This day last week I was lucky enough to meet one in the flesh and all I can do is highly recommend that you try as well.
Doug Allan, has been behind the lens on so many epic nature shoots but the ones I am most interested in are the under water ones. Think Blue planet. As part of the promotion for his new book Freeze Frame he is doing a tour of lectures around Ireland and the UK. Doug is an absolute gent. As I waited to get my copy of his book signed  (you have to don't you) there was a six year old kid there with his mum. The way Doug spoke to the child with passion and enthusiasm speaks volumes about his character. In essence one child was going out of there with an ambition to become a wildlife photographer. I think after his talk there were many more adults wondering how they could do the same.
Dougs book is a coffee sized volume of stunning photos but with each photo is the story behind it so its not just a coffee table type of book. Sometimes the stories are funny, sometimes instructional and sometimes poignant.
Hiss concern for the environment and appreciation for wildlife shine through in this book and in his talk. Doug has never had any instruction in the art of photography or film making so as he says if he can do it so can you. You also get the sense that he was destined for this role in life. Destined to bring us, the world famous scenes from the Blue planet and Life in the freezer amongst others.
His nonchalance when describing interacting with Leopard seals, Orcas, polar bears and other "dangerous" natural life belies his understanding and experience. He describes how from his point of view there's no point in getting close to film an animal if all you are filming is its reaction to the film maker. So in most cases a "relationship" or tolerance is built up over a period of time until he is accepted in the water and natural scenes go on as they would if he wasn't there at all. Small wonder then that the natural wildlife film maker spends so long in the wild, in uncomfortable conditions just to get that one minute of film that can be used. Some of his footage has even been used by marine biologists to get a better idea of whats happening in an environment. The jet propulsion bubbles of the penguins in Antarctica comes to mind.
You can see the dates and venues here and like his facebook page. You can buy the book at the talks as well. Its well worth going to if you have any inclination to nature and think how often does a chance to meet someone like this come up?