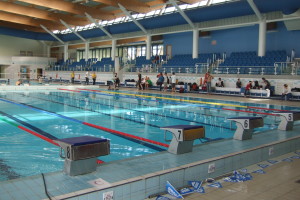 OK so for any of you guys swimming more in 2014 or loosing weight etc here are some pointers.
Disclaimer, I am not a swim instructor but swim 2k most nights with drills and 3 k if going long so am reasonably competent. If you find it difficult to swim more than 10 lengths of a pool without stopping I would suggest go to a swim class or one to one for a few sessions.
1. When you are going swimming, swim. Seems pretty obvious but 80% of people talk at the end of the pool while they take a break for a minute or two. That minute becomes 10 and you start swimming when you start getting cold. Plan your rest breaks 2 mins tops and talk in the steam room or Jacuzzi when your session is finished. Don't talk, swim
2. This one is mainly for the guys. Get tight shorts or jammers. Board shorts and baggies cause a MASSIVE amount of drag, that you won't believe until you try the others. Let's be clear, I am not recommending the Budgie smugglers/bannana hammocks but rather the tight fitting shorts, the length of which is up to you. Yes you will think people are looking at you etc but actually they are not ( how vain are you brah? ) and you are going to be in the water shortly anyway. As you get older you care less what people think.
3. Warm up, if you can stretch a small bit before the swim. If you feel you will look like a twat stretch before you go out.  Decide beforehand how many lengths you will do, then how many as a warm up, say 20-25% of your total. Allow about 10% of your total for a warm down. This just means taking it easy in both. Ignore the desire to keep pace or race with someone swimming in the same lane or beside you.
4. Drills. Don't do the same thing every night. I do drills two nights a week and a long straight swim one night. Some drills: catch up, this slows the stroke down. Your leading hand stays on the surface of the water until the recovering hand joins it. Fists, swim with your hand in a fist using your forearm to catch more water on the stroke. Board/float, swim lengths just kicking with the float in front of you. Speed set, flat out as fast as you can, swim up take a breath or two then swim back down slowly. Repeat as much as you can. If the pool has a minute counter at the end watch that, decide on a set amount of time for two lengths. The faster you do one the more time you have for rest. Try swimming with a pull buoy for a few lengths, if you notice how much easier it seems your legs and feet are causing you drag and need to be worked on. Youtube is your friend here. Swimming instructors will all have an opinion on drills so see disclaimer above but work for me. You can lose weight swimming but you need to do it fast and have a reasonably high length count I think. Your arms should be hanging off you at the end of a good session.
5. Etiquette. Apart from the normal pool rules there are a few unwritten ones that may seem obvious and some that don't. Don't dose yourself in deodorant/aftershave prior to swimming, it gets in the back of my throat, you complete bastard who ever you are. If someone is swimming behind you and they are faster let them pass at the end of the next length. Some swimmers will tap your feet to give you an indication. Stay to one side at the end of the lane if resting as staying in the middle will be in the way of people turning. Think about the other persons speed if you are about to do a slow drill, don't set off in front of them.  Don't be afraid to use the "fast" lane. Many of the swimmers are the same as you or slower than you think and if you let people pass you will have no worries. Swimming with someone faster than you is good. It brings on your own swimming. If they are slower use them as a guide.
6. Hydrate, Unless you are swimming/training for more than an hour avoid the sports drinks. Drink water and sip between sets. Sports drinks add too much sugar so make no sense if trying to loose weight. Just be water.
7. Slow down to speed up. Work on reducing the amount of strokes to do a length, work on slowing down over a long distance so you keep that pace and a faster time overall.
Lastly and this is one I saw on facebook. It doesn't matter what you eat between Christmas and New Year. It matters what you eat between New years and Christmas.
Just keep swimming, it will do good in your heart, your body, your mind and your freedive training.