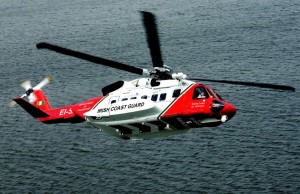 So another winter storm is about to hit our shores. It's no wonder our coast is so rugged and craggy when it's very outline is shaped by the perpetual power of  Great Atlantic Ocean.
These are the times you are happy to be tucked up warm and snug with a hot cuppa tea or even better a hot whiskey while the wind shrieks, howls and does its utmost to split the walls from round you.
These are the times when you thank God you are not on a trawler risking life and limb along with your crew for someones fish fingers. Think of the frightened souls all alone in the cold dank darkness, their vessel pitching and tossing like  the proverbial cork in the Ocean which is exactly what it is. Waiting and praying against the freak wave, praying they can stay and ride it out, praying no water breaches the engine and causes them to spin broadside to the very crests they were riding over just moments ago.
Now imagine our brave rescue services, the Coast Guard and the RNLI all on high alert over this weekend. Waiting in the comms room and hoping and praying they don't hear the dreaded "mayday mayday mayday" cut through any noise and make everyone stand still for a moment. Now think and admire the bravery of these men and women as they don their survival suits and pilot their boats or helicopters. To set out and go try and find these souls at sea and bring them home to their anxious panicked families and friends.  Imagine the helicopter pilot as he juggles the risks of putting his crew in more danger or make the heartbreaking decision to return to base. Imagine the RNLI folk as their pagers beep and they rush madly to get to the station, put all their training into practice and put to sea when everyone else is hunkering down. Picture their bravery, their courage, their love of human life as they risk all to save another human being in trouble.
Now imagine the shout they got is to someone who was walking on a pier when they knew they shouldn't be in this weather. Imagine they are going out to try and rescue someone who got too close to the cliff edge because they wanted to see the Oceans fury. They will respond of course, of course they will that's their way and maybe in the middle of that shout the "mayday" comes in from out in the Atlantic, someone who couldn't get back to shore and has been forced to ride it out. A fishing vessel that provided your dinner last week.  Someone who urgently needs an airlift to another hospital to save their life. Don't have them out on a call that could have been avoided. I love looking at the Ocean in all its forms, and it's especially impressive in times like these. Use some common sense. Stay well clear and don't be a twat. These guys will have enough to do. Stay safe.