OK I wasn't actually dancing but I was in the moonlight. It was mental bright and my feet were kind of drawn to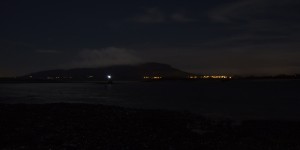 the beach as midnight approached. Tide was out and only a small gentle pulse of a wave trickled on to shore. The air was still and cold, I think I could have shouted across to Donegal or Mayo and the sound would have carried.  It was a kind of stillness, light and eeriness that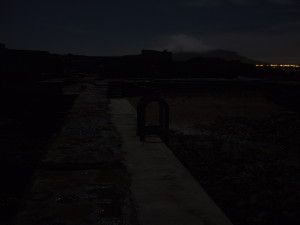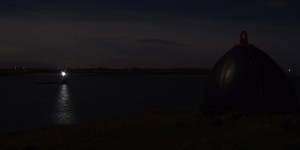 lets your imagination run riot without  use of any "recreational substances". The Ocean was so calm, still, mirror like, lake like even dream like. The depths of it hiding the torrents, rage and fury it had unleashed on this same coast just a week earlier.
If the metal man was ever going to jump down off his perch and waded ashore tonight would have been the night. As it was his lantern was twinkling away, always a constant light in this watery realm, ever changing with the tide. Tripod and camera set, it wasn't long before the hands were getting numb. But if the body wanted to go back to warmth, the mind and spirit wanted to stay and bask in the moonlight, in the atmosphere, in this moment in time that was surely fleeting. And it was.
After an hour or more and happy with some of the pictures, (you need to click and enlarge to do them any justice) I drove off thinking the other side of the bay might hold more wonders. Even as I left Dead mans point I could feel or sense the light changing. On the far side of Sligo town, it was dramatically different. It was like any other moon lit night. Nice sure , but the magic was gone. The thrill of the unknown, of the other world tinged with both fear and wonder was gone. Replaced by normality again.
Lesson learned, no matter how numb the fingers go, stay with the magic. It doesn't last long.